We are no longer able to take fence repair projects until next year.
Fence Repair Services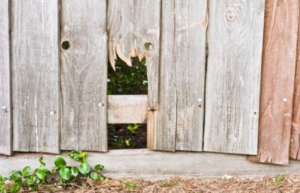 Fence repair in Boise is a major part of our business at Meridian Fence. Due to Boise's climate, your fence faces exposure to the sun, wind, rain, hail, snow, ice, and pets. Even when maintained properly, it's likely that a fence repair will be needed at some point. Some repairs are as simple as replacing a slat or picket, and others can be more complicated.
Here are some of the most common fence repairs we see:
Broken Fence Boards or Slats
When wood fence boards break or vinyl slats come loose or crack, it's usually an easy straight forward repair that can be completed quickly.
Leaning or Sagging Fence
An unsightly fence lean or sag will often catch the attention of the HOA. In addition to the poor aesthetics, the sagging or leaning can cause gate latches from lining up and closing properly. These types of repair aren't always an easy fix. Our fence repair experts can evaluate the damage and provide the best repair options for your consideration.
Relocation or Adding On
Sometimes homeowners need more fence or additional gates added, or require that sections of a fence be removed or relocated. These types of projects are no problem, however utility lines may have to be identified before relocating a fence or digging in new areas.
Fence Maintenance
Does your fence need a good cleaning or a fresh application of stain? – we do that too!
Meridian Fence offers fence repair in Boise, Meridian, Nampa, and all other surrounding areas. Call 208-888-6131 for a free estimate and get your fence repair project added to our calendar. Or contact us online using the form on the right!