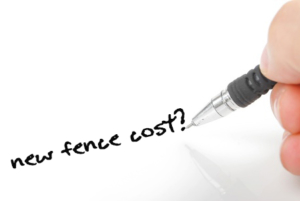 No matter how big or small, how old or new, if you own a home in Boise, Meridian, or surrounding areas, there is a good chance that at some point you're going to need a new fence. Having a new fence installed isn't one of the more glamorous home improvement projects, and sometimes it just one of those home improvement projects that have to be done. It's no surprise that one of the most common questions we get asked is related to the cost of a new fence. We get it, you want the most value for your hard earned money, and want to have and idea what it's going to cost.
In this blog post, in general terms, we will try to answer that question "how much does a new fence cost?", or at least give you enough information to start planning. Of course each individual project will have different costs involved, but generally speaking, this information will give you an idea of what to plan for.
Let's jump right into the basic costs, and then we'll share some tips to help you save some money.
Most companies average between $22.50-25.00 per foot installed for a vinyl fence. There are only a few options with a vinyl privacy fence, so that price range is a good place to start.
Cedar can range from $17 per foot installed up to $27. There are a ton of options for cedar fencing, so it gets tricky to nail down a more specific range.
Here are some tips that can save you some money on your next fence:
Tip 1: Some customers choose to go with a cedar fence just to keep costs low but then have a tendency to add some of the many decorative options. Those options really do make a fence stand out, and the designs look fantastic, but after adding the decorative options, they are not saving money compared to choosing vinyl. (for a comparison of cedar vs vinyl click here.)
Tip 2: If you are just looking to keep your pet in or someone's out, consider a wrought iron fence. Most people don't realize this, but they can order pre-fabricated panels for 20% less than having them custom made. Most people pay only $22.00- $26.00 per foot installed for wrought iron!
Tip 3: Plan for your project during January through February. These are usually the slowest months of the year, and prices are at their lowest.
Tip 4: Do it yourself. Most reputable fence companies will sell material only projects, just make sure to get a couple bids to verify that you are getting a good price. If you don't feel completely comfortable with a DIY project, you can have the pro's install/set the fence posts only, and you can take it from there!
Tip 5: Don't automatically go with whoever offers the lowest bid. There IS a big difference when it comes to fence quality, in both materials and installation. You'll save headaches, hassles, and money, by choosing a reputable company that uses high-quality materials, delivers a professional installation and offers a warranty after the project has been completed.
If you would like a bid for your new fence or have any questions about the costs of a new fence, please contact us online, or give Meridian Fence a call! 208-888-6131